13/08/2018

Angle grinder BORT BWS-1200-125
If you're planning building works and you are in need of tools for your workshop, then angle grinder will be a reliable helper for this matter.
Angle grinder Bort BWS-1200-125 has high power input despite its compact size, 1200 W. it is hard to overload it not only when working with cutting disc, but also where load is maximum – during grinding. That is why it's irreplaceable for grinding various surfaces. We can describe this angle grinder as compact tool with weight only 2,4 kg which has an ergonomic body and designed for semi-professional and home use. Various enhancements were applied in order to increase lifetime and durability of the tool.
Major enhancements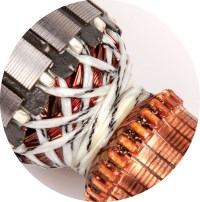 Rotor is protected by additional layer of lacquer lattice bandage which improves protection of winding and increases durability of angle grinder.
Angle grinder possesses increased endurance and can work with one set of brushes up to 100 hours under various work conditions. This fact proves that this angle grinder is close to professional level of tools.
Quality of work this grinder provides depends on many factors and one of them is dust protection, that's why this attribute was improved.
Dustproof switch was covered with special silicone cap.
Additional protection of rotor's windings by compound is resistant to high temperatures (up to 220 degrees). Thanks to that, angle grinder can easily cope with overload.
Gears of reducer possess increased hardness 62 HRC.
Reducer is treated with high-quality grease with the addition of extreme pressure additives which doesn't worsen for a long time.
Bearings are protected with polymer protective covers which have high elasticity and protecting bearing from dust.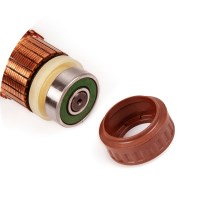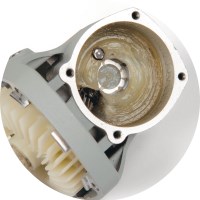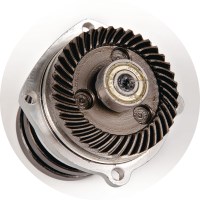 Angle grinder features optimized ventilation system. Ventilation notches on the body of angle grinder are positioned the way that its impossible to fully cover them, that why engine will never overheat.
After turning on switch is fixed which provides very convenient work.
Apart from above mentioned features this model has following main characteristics:
Safety is provided by protective guard and special design of the switch.
Thanks to discs diameter of 125 mm angle grinder has great performance in grinding.
Flat body of a reducer allows mobility in confined areas.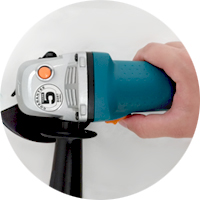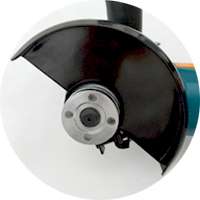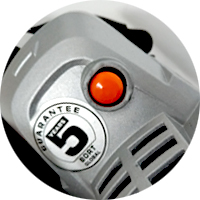 13/08/2018