Vacuum sealers and their application in sous-vide cooking technique
20/01/2022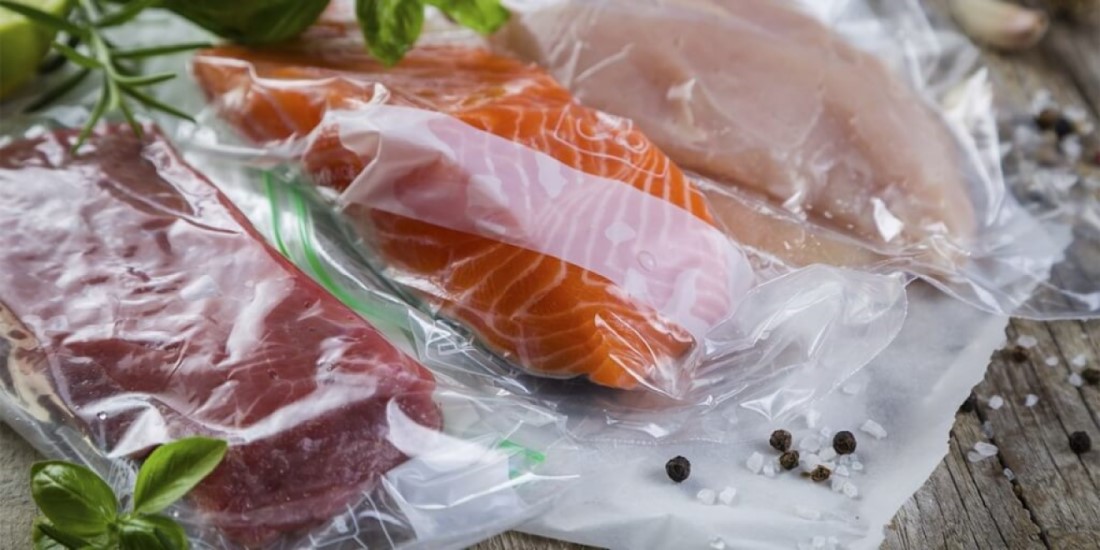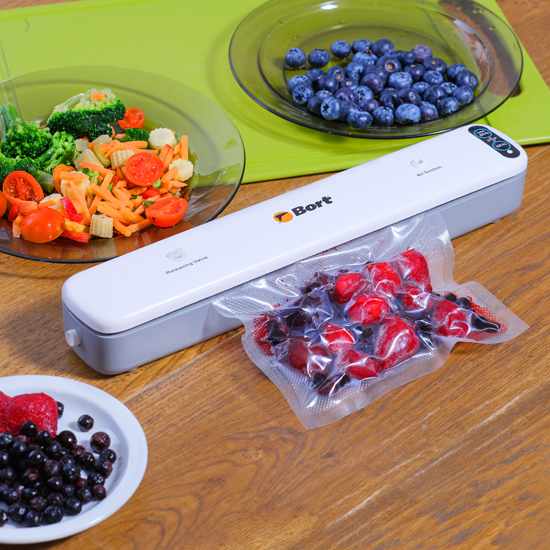 Maintaining a healthy lifestyle
Healthcare is directly related to proper nutrition. The increasing number of people is sticking to a healthy lifestyle. Standard cooking methods aren't always suitable for them. Accordingly, new culinary techniques are introduced, as well as household appliances, which these special cooking methods require.
Sous-vide cooking
Sous-vide is one of the modern techniques for cooking delicious and healthy food. The method got its name from the French "sous-vide", which means "in vacuum". The cooking method is quite simple:
products are packed in a special plastic bag;
air is removed from it, using a vacuum sealer;
the bag is put into water heated over a low heat.
The water temperature should be below 100 degrees Celsius.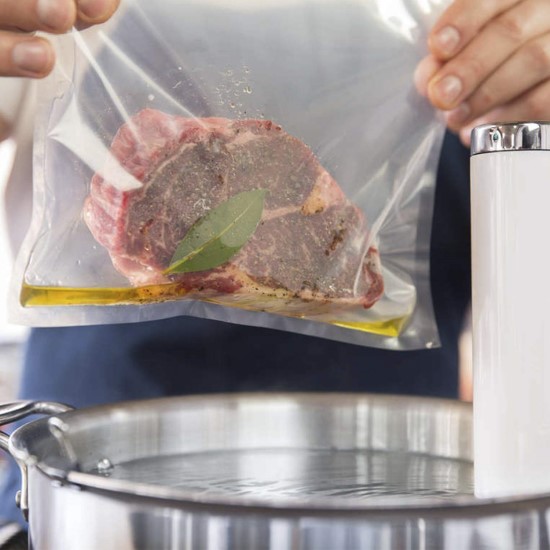 The water temperature should be below 100 degrees Celsius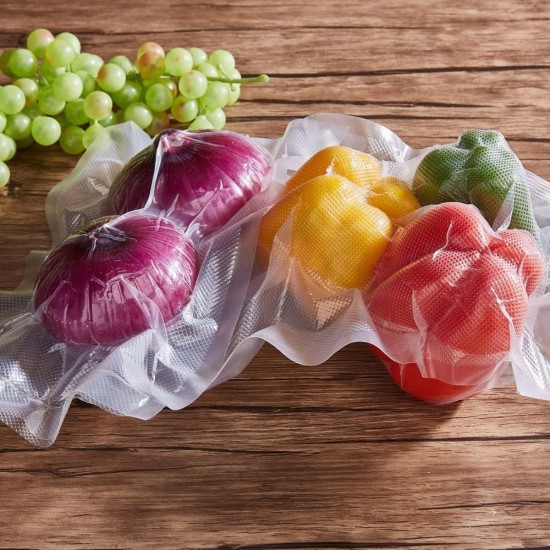 The first sous-vide cooking
Sous-vide cooking technique was first introduced in France. The French people's favorite dish foie gras loses almost half of its weight after being cooked in the traditional way. Raw liver contains 40% of fat that is melted out of it when being exposed to high temperature.
When one of the chefs wrapped the product in a plastic bag and cooked it over a pan of simmering water, the liver retained its weight and shape. Further sous-vide development got a scientific basis. They carried out corresponding studies and defined optimal temperature conditions for various products. Then a book with recipes of delicious and healthy dishes and their cooking principles was published. This technique is based on a long heat treatment of products at a low temperature.
Advantages of the cooking technique
Sous-vide technique is becoming more common. Which is due to advantages that this method of cooking a variety of dishes has:
when being cooked, the products are evenly heated throughout their volume;
the entire cooked dish will be completely heat-treated;
the low temperature the ingredients are heated at, contributes retaining moisture, that is juiciness, in them;
a gentle cooking mode doesn't destroy vitamins and nutrients;
easy cooking – one needs no special skills and experience or ongoing control over the process;
one can simultaneously cook a few dishes in one pot – meat, vegetables, and fish.
When being cooked in this way, even fatty meat will lose almost no weight.
By cooking food in an oven or on a frying pan, you can roast away the dish by 1.5 times. Furthermore, even a golden crust doesn't always mean that the meat is thoroughly baked.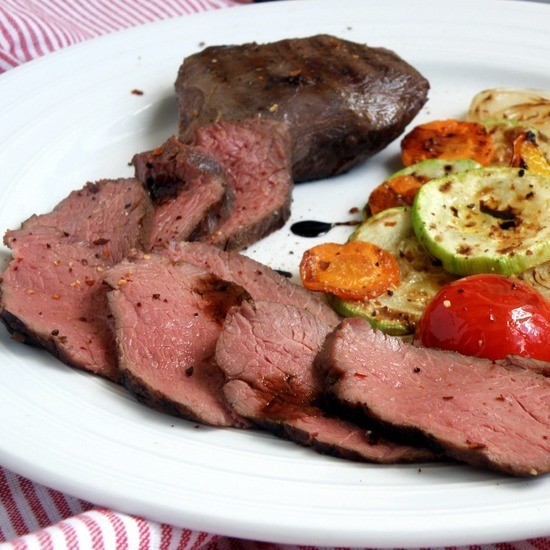 A gentle cooking mode doesn't destroy vitamins and nutrients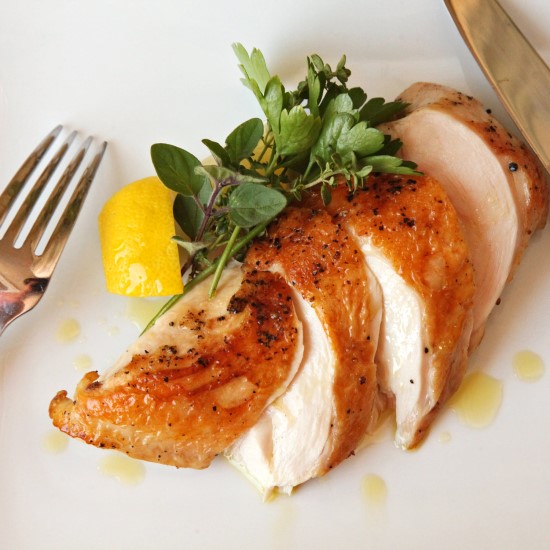 Recipe of a chicken breast cooked using sous-vide method
A chicken breast cooked using sous-vide technique, is mouthwatering and healthy. To cook this dish, you will need:
get a chicken breast ready – wipe it dry, add seasonings to taste;
put the product in a bag;
pump the air out and seal the edges using a vacuum sealer;
pour water into a container and heat it to the required temperature (+75 degrees Celsius);
put the bag with chicken into a pot;
the dish will be ready in 3 hours.
Approximate cooking time and recommended temperature for different products:
| | | |
| --- | --- | --- |
| Product name | Cooking time | Temperature |
| Chicken breast | 1-3 hours | +75 °C |
| Vegetables | 2-3 hours | +85 °C |
| Pork | 3-3,5 hours | +70 °C |
| Fish | 40-80 minutes | +50 °C |
| New potatoes | 90 minutes | +85 °C |
| Beef | 6 hours | +58 °C |
| Turkey | 2 hours | +64 °C |
Is this method safe
Some cooks believe that sous-vide is an unsafe cooking method. The main arguments include the heat treatment at low temperatures, which can't destroy bacteria and parasites in the product, and harmful substances released when heating plastic bags.
The first problem can be refuted by the fact that products undergo sanitary control before being sold at a store. There is nothing especially dangerous about them. But you can fry the dish after cooking. The food must be immediately served or frozen. Before cooking, the products must be kept in a fridge.
Harmful substances won't get into the dish subject to using safe food plastic. Manufacturers offer a variety of suitable products.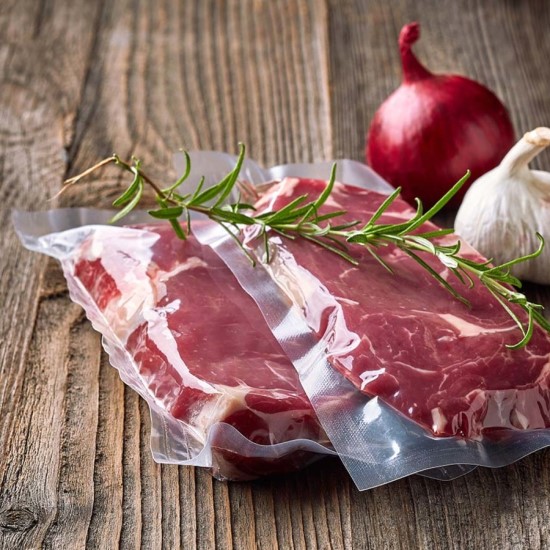 Harmful substances won't get into the dish subject to using safe food plastic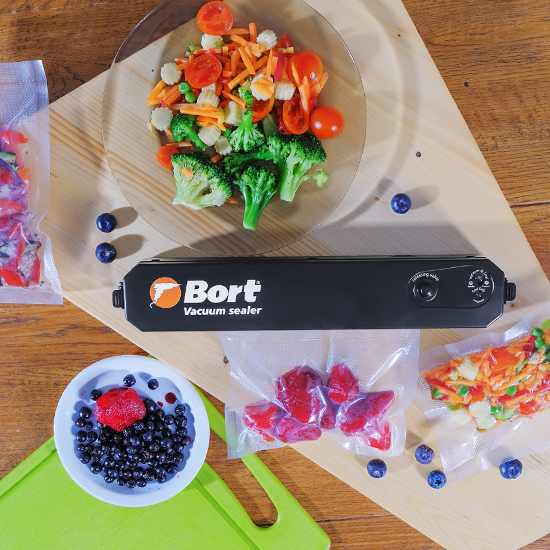 For packaging the products, sous-vide technique assumes use application of a vacuum sealer. It's a special device for pumping air out of the bag. The device features a simple design. Typically, it consists of:
a steel or plastic body;
a vacuum chamber (for single- or two-chamber devices);
a pump;
a device with tape for sealing bags with teflon coating;
a clip fixing the packaging material;
control buttons for functions, turning the device on/off;
status lamps.
A vacuum sealer, for example Bort BVV-100 или BORT BVV-200, can operate with dry and wet food. For wet products, a simple bag sealing is used, for dry ones – vacuuming and sealing. Certain models can be used for dealing with special plastic containers, bottle caps, valved reusable vacuum bags.
The idea of "vacuum packaging" for food was introduced back in the 1940s. The first bag sealing devices appeared on the market in 1963. They resembled existing industrial models, but were smaller in size. However, Hans Christian, who introduced modern vacuum food packaging devices in 1984, is considered to be the inventor of vacuum sealers.
Such devices immediately became popular in manufacturing. They really increased the time food remained fresh. The first devices could seal food for long-term storage in production quantities. They were operated manually and had plenty of disadvantages.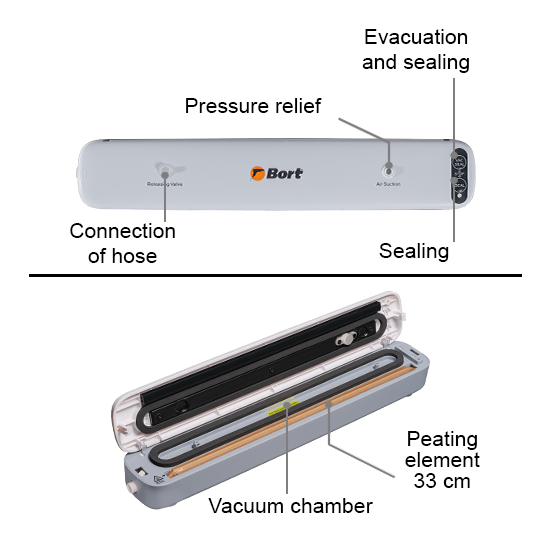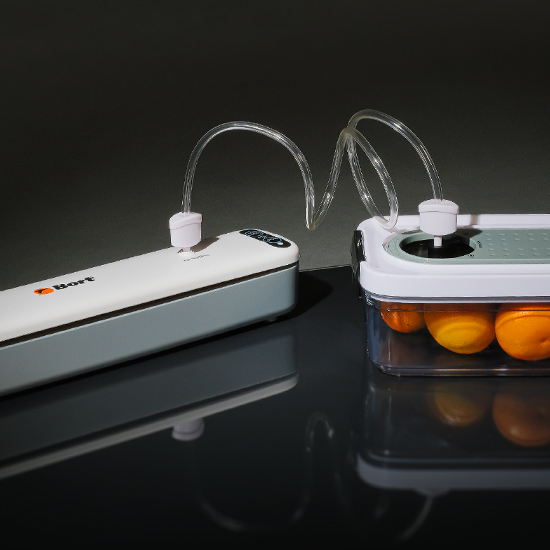 BORT BVV-200 vacuum sealer can pump air out of containers
Over time, many of the device disadvantages were improved. By reducing the size, getting rid of the camera, automating the vacuuming process, it became possible to develop household devices, which are popular among many housewives.
Two-chambered devices and thermoforming equipment was introduced in manufacturing. Advanced technologies enhanced performance, expanded a range of performed operations, and made the devices safer to use.
Household devices are compact, lightweight, and don't take up much space. By using them, you can create vacuum and seal a bag quickly.
The equipment is multifunctional. It is used to:
prolong shelf life of fresh meat, vegetables, fish, fruit, and ready meals;
protect food from absorbing unwanted odors;
prevent sliced products from crusting;
cook using sous-vide method;
as a clip that fix the packaging material;
shorten the time to marinate meat and fish;
protect beverages from fermentation;
ripen unripe fruit and vegetables, improving their appearance and quality.
By using vacuum sealers, it becomes possible to reduce the amount of preservatives used to extend products shelf life.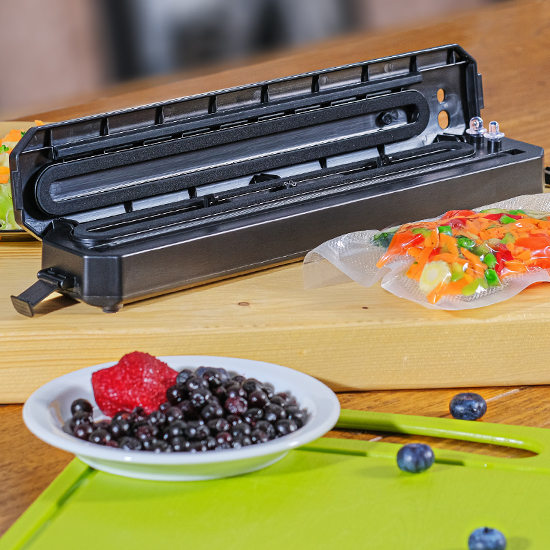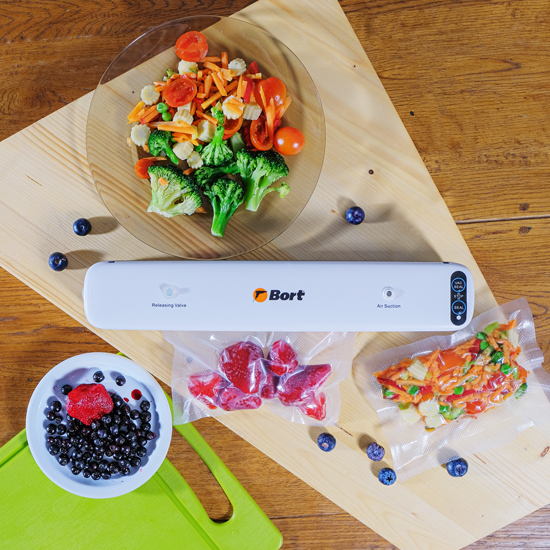 Choosing a suitable model
When choosing a vacuum sealer, that will fully meet your requirements, you should pay attention to the following aspects:
frequency of using the device;
price;
easy the device maintenance;
dimensions;
additional functions.
Bort BVV-200 и BVV-100 vacuum sealer are characterized by small size, high quality and ease of operation. Bort BVV-200 comes with an additional hose for pumping air out of containers, and BVV-100 model is available in fashionable black.