Description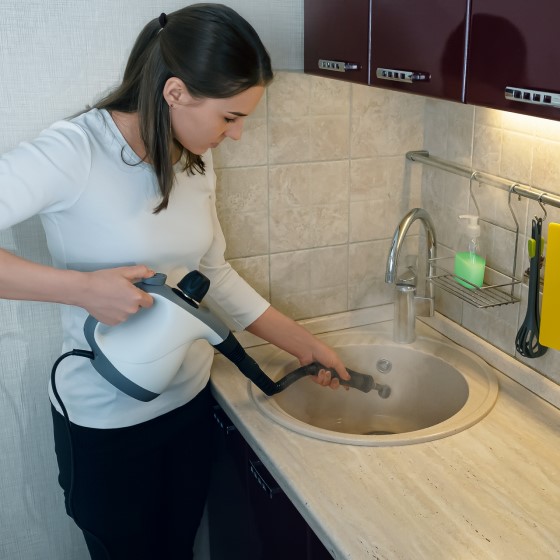 Flexible hose of the steam cleaner allows to clean hard-to-reach areas
Steam Cleaner BORT BDR-1400
The hand steam cleaner Bort BDR-1400 is intended for efficiently treating a variety of surfaces. A perfect option for being used in an apartment, in an office, and outdoors. Its compact size makes it easy to use, and it doesn't take up much storage space either.
The compact device is easy to hold in hand. The 3-meter-long chord makes it possible to clean hard-to-reach areas. The device features a classy white design.
Multifunctional device
The hand steam cleaner makes a cleaning process by times more efficient. The device easily degreases and cleans any surface – kitchen stoves, tiles, ovens, microwave ovens, sinks, hoods, and refrigerators. The device perfectly copes with plaque on mirrors, glass furniture, heating elements, floor tiles, bathroom accessories. The steam cleaner's constructional features allow it to operate in a continuous mode.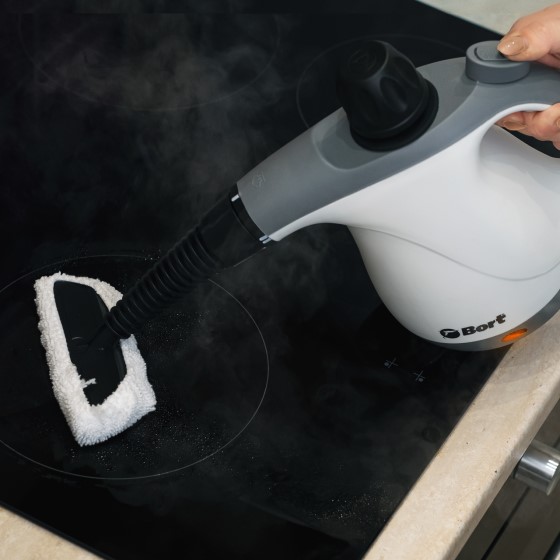 Compact size – easy to use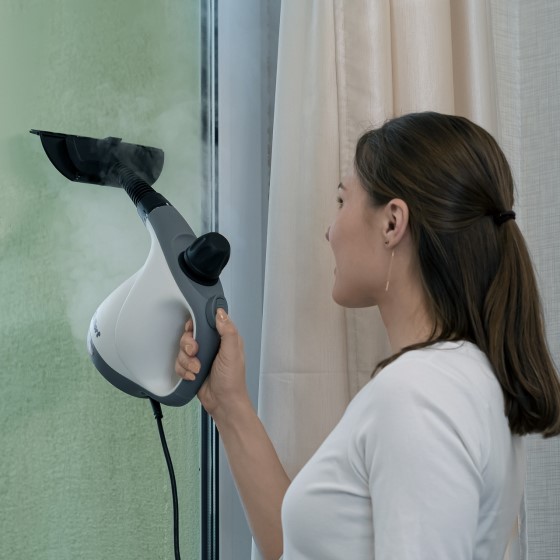 Window cleaning nozzle included
Technical specification:
device weight – 1.8 kg;
dimensions – 266 х 155 х 235 mm;
hose length – 0.55 m;
power – 1300 W;
tank capacity – 450 ml;
maximum pressure – 3.2 bar;
constant steam supply – 35 g/min;
steam temperature – 133 °С;
heating time – 180 secs;
power cord length – 3 m;
continuous operation time – 12 min.
Advantages of BORT BDR-1400
Among the device's main advantages, its disinfecting properties should be mentioned. The device generates steam at a temperature of +130 °C, which destroys mold, ticks, harmful microorganisms, and insect larvae. A short moving nozzle makes it possible to reach the most hard-to-reach places. The heating indicator indicates whether the device is ready for operation.
The home steam cleaner BDR-1400 meets the sustainability requirements – surfaces are cleaned without any chemicals. At the same time, the cleaning quality is at a high level.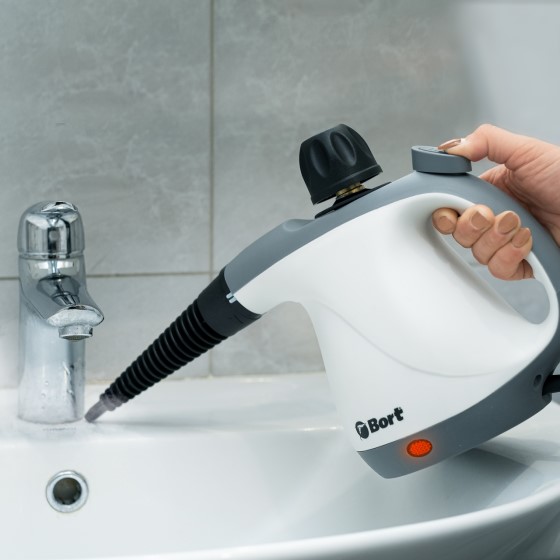 Power cord is 3 m long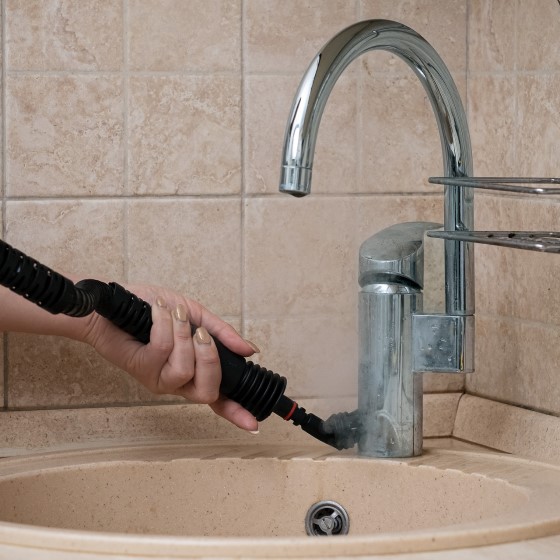 A variety of nozzles to tackle any task
The set includes a few replaceable nozzles:
nozzle for clothes;
nozzle for washing doors and windows;
small brush nozzle with polymer bristles;
angled nozzle;
flexible hose for steam supply.
Features of the Bort steam cleaner
cleans hard-to-reach places thanks to the moving short nozzle;
functions without chemicals;
overheating protection;
shutdown when there's not enough water;
compact size and small weight of the steam cleaner.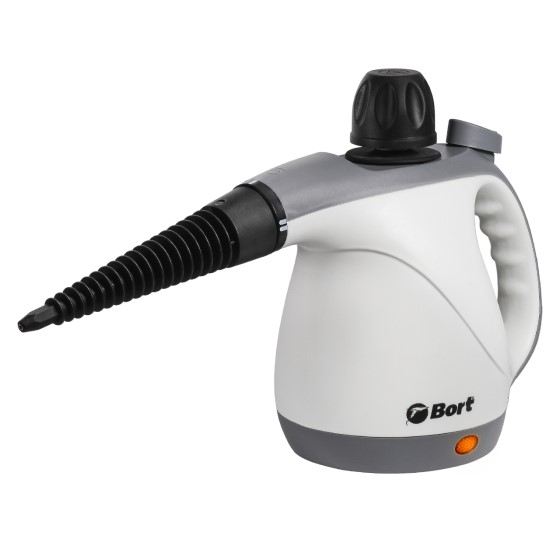 You will enjoy the steam cleaner's classy design when cleaning
For all questions regarding the operation of the product, you can contact our specialists by phone:
Monday — Friday:
10:00 — 18:00
Specifications
Includes
Bent spray nozzle: 1
Small round brush with nylon bristles: 1
Cloth brush: 1
Flexible steam hose: 1
Spray nozzle for door/window: 1
Covering of terry towelling: 1
Measuring cup: 1
Funnel: 1
Angled nozzle: 1
Related products
Attachments