Description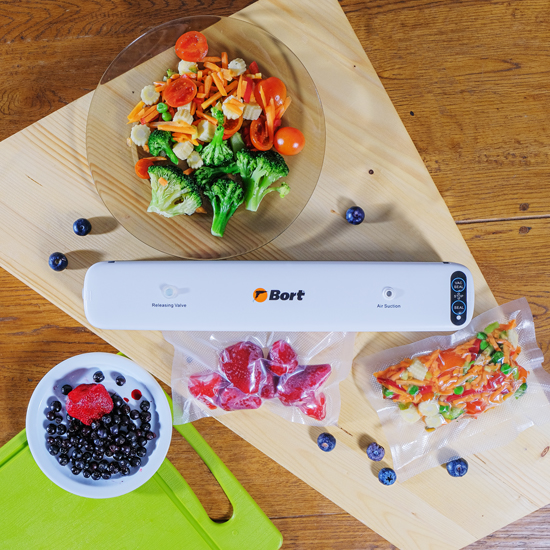 Vacuum Sealer Bort BVV-200
To organize the food storage system in your kitchen properly and save a larger part of the family budget at the same time, you will need a vacuum device. The household device ensures a sealed package, isolating the package contents from oxidizing influence of oxygen. This measure will make it possible to extend the shelf life of perishable products significantly, preserving of nutrients and taste qualities.
The vacuum food sealer is a universal device designed for pumping out air, sealing plastic bags, and vacuuming food containers.
Advantages of the vacuum sealer
Besides increasing the shelf life of products, the vacuum cleaner features the following advantages:
Products take up less space and are convenient to carry;
Meat and fish stay fresh longer without freezing;
Products are protected from germs and bacteria;
Prevents odors from mixing;
You can cook for a few days at once
You can use the sous-vide cooking method (cooking at low temperatures in vacuum)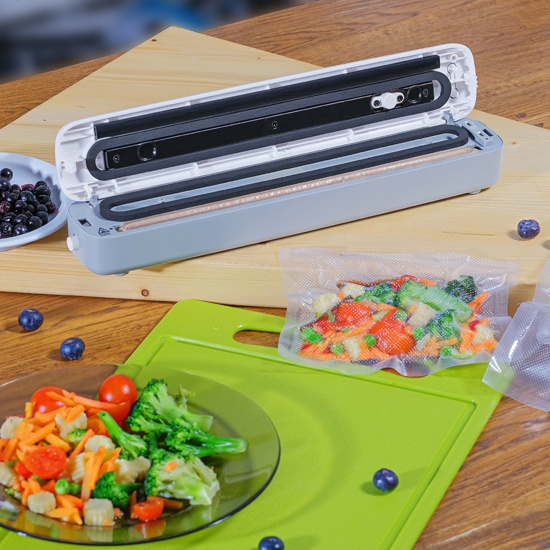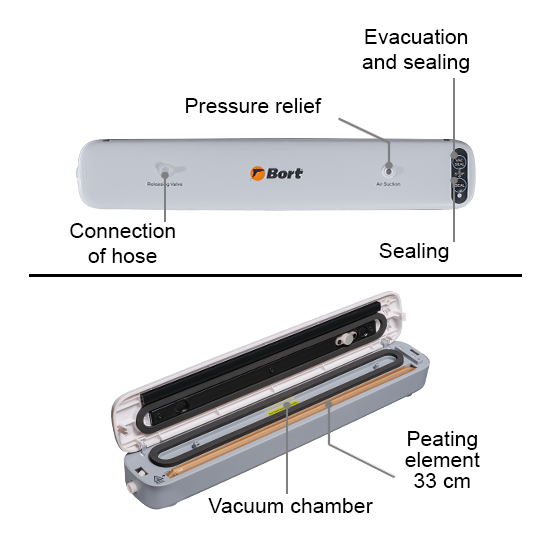 Technical characteristics of BORT BVV-200 vacuum sealer
BORT BVV-200 mobile vacuum sealer is a compact device 470 x 100 x 85 mm in size. The device weight is 0.9 kg only. Despite such unpretentious size, the device's characteristics are impressive:
rated power: 90 W;
degree of vacuum: 65 kPa;
maximum capacity: 12 l/min;
maximum width of packing bags: 300 mm.
BORT BVV-200 vacuum sealer is made of high-quality plastic. The device is complemented with intuitive buttons for control and fixing the closed position, as well as an informative ready light. The blue light bulb lights up when the device is in operation and becomes dim after finishing.
Operating principle and delivery set
The household vacuum device of the BVV-200 series is easy to operate and requires no additional maintenance. The device's multiple functions include simultaneous sealing of a few packages, a possibility of choosing operating modes: common sealing and sealing via air pumping-out. The device can be used as a vacuum sealer as well. For this, you should connect a food container to the vacuum sealer using a special hose and press the VAC SEAL button twice.

The standard delivery set of the vacuum sealer includes: a power cable, a suction hose for pumping air out, 5 vacuum bags, instruction.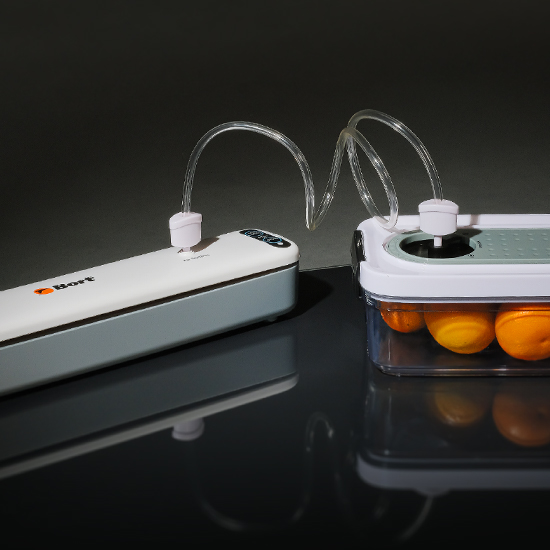 For all questions regarding the operation of the product, you can contact our specialists by phone:
Monday — Friday:
10:00 — 18:00
Specifications
Vacuum degree, bar:
-0,65
Vacuuming food containers:
Yes
Max sealing width, mm:
300
Mains supply tension, V:
230
Current frequency, Hz:
50
Includes
Vacuum bag: 5
Hose for container vacuuming: 1
Attachments